› Can't you be without internet? Wi-Fi follows you also in the hotel ‹
Moena - Val di Fassa in Trentino
BUCANEVE HOTEL
New management!
Hotel and restaurant open all year round.
Beautiful landscape of the Dolomites and great home made food!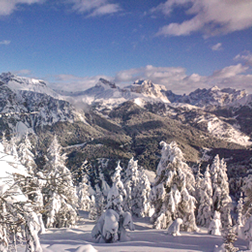 For those who are seeking a mountain holiday in complete tranquillity and harmony, the Hotel Bucaneve in Moena is perfect. It's just as ideal for a skiing holiday in winter, as it is for trekking and walks in summer; the Hotel represents the most ideal solution for couples and groups of friends.
POSITION
We are situated in the Fango district (Fanch, in the Ladin language), just outside the centre of Moena, only 3 km from the ski lifts of the Alpe Lusia (Lusia Alps) and only 3 km from those in San Pellegrino. There are so many excursions you can go on, setting off from the hotel, without having to take the car.
RECEPTION
Try to imagine people from Romagna who have "settled" in the Trentino area. From this wonderful blend, a combination of warm welcoming, simplicity and the maximum availability for our guests emerges, especially when we are dealing with families with children.
SPECIAL OFFERS
Despite many important services, such as internet, Wi-Fi, the garage, sauna, ski room and ski boots, our fees are still extremely competitive and made even more convenient by specific special and last minute offers that we publish on our website.
Summer or winter, beauty all year round
Apart from the skiing holiday among the Dolomites, it is marvellous to visit Moena also in summer. Try to organise your green holiday week at the Hotel Bucaneve, that is right at the point of departure of 2 "entrenched" camp routes dating back to the First World War. Not to mention mushroom picking trips, mountain bike routes, fishing, trekking and all activities to do in summer surrounded by nature in the Trentino region!
So, choose
Hotel Bucaneve in Moena
for your next
mountain holiday
, in order to have services and convenience.